In October, as part of our research sessions on tracing your ancestors back to the period of slavery, one of our senior researchers, Steve Porter gave a detailed talk on tracing back to this period in time. This is the first part of his talk which gives detailed information including documents, on how he traced back records in Jamaica.
INTRODUCTION
I have learned a lot about the wider Caribbean community through the Caribbean Family History Group and the dedication of its membership, made possible through the Diaspora and those who call elsewhere their home. I would recommend getting to know the history and geography of the area you are interested in, in order to understand what you see in the records.
This session is partly dedicated to the Slave Registers, showing how to access them, what to expect in these records and to emphasise the sinister purpose for their existence. I will share what I know about my enslaved ancestor and her family, which became evident throughout the period these registers were kept. But there were other records which I will tap into, which helped make that connection, that pointed the way to the Slave Registers and to find the truth about that sad but not uncommon story of society – such as it was then.
Also, to the Compensation Claims which will follow on from the Registers.
Present day Map of Jamaica, showing 14 parishes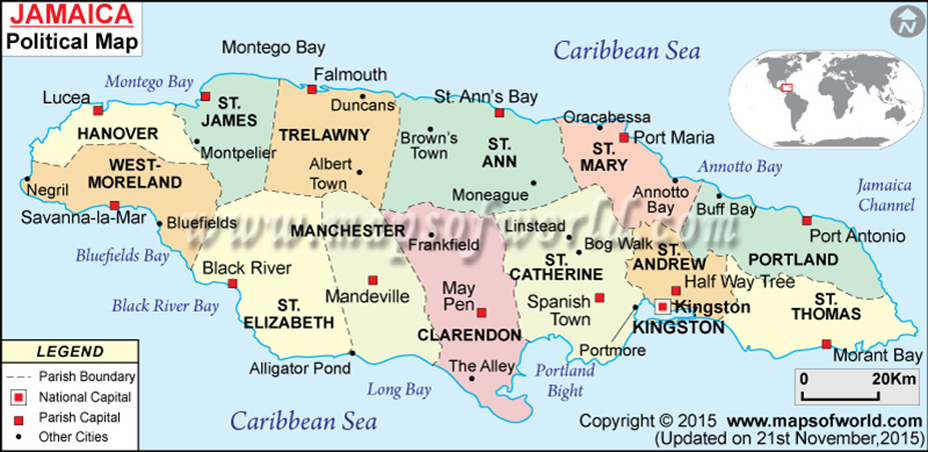 PREAMBLE
My story today takes us to the island of Jamaica, where I was born over 70 years ago and later, aged 30, came to reside in England. I was educated in the island and, from the time of Independence in 1962, was introduced to the history of Jamaica, as well as its role in the West Indies, as part of the new school curriculum. Thereafter followed a passion to continue this journey and here we are today, sharing our knowledge. The previous map (in colour) shows the administrative parish boundaries of present-day Jamaica, consisting of 14 parishes.
1867 Map of Jamaica, showing 22 parishes (which were reduced to 14 parishes)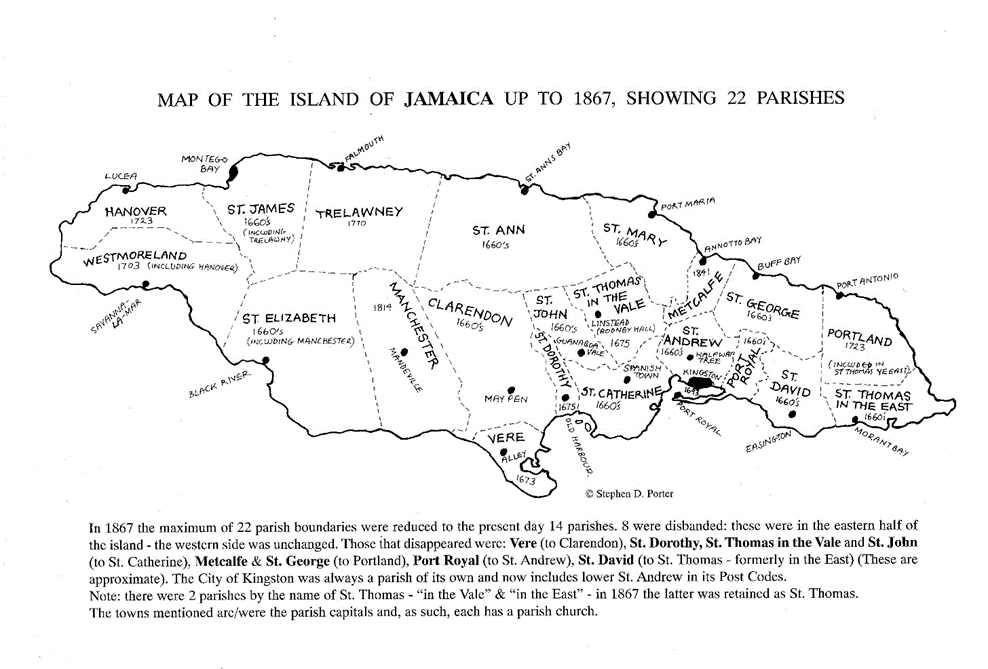 JAMAICA AS IT WAS
This map of the island shows the then maximum of 22 parishes, but note that around the first half of the 19th century, Manchester was only formed in 1814 and its capital Mandeville started in 1816, and the parish of Metcalfe formed in 1841. Historically, others either appeared or were absorbed into adjoining parishes, when in 1867 they were reduced to the present day 14. This could affect the location of a particular town or estate, if you are fortunate to reach back into the 18th century in your research.
One such example of this change – and there are many – is the parish of St. James, which was twice the size up to 1770, when it was deemed to be too large to administer the eastern half, so the new parish of Trelawny – named after the Governor – was formed, and a new town, Falmouth, created a year later, became the parish capital. The only existing town in that area was Martha Brae, situated inland on the river of that name, but found to be unsuitable to be the capital.
The area of most change is in the eastern half of the island where 8 parishes were disbanded (see note under the map above).
AFRICAN EVIDENCE IN MY FAMILY
I have known for a long time of the existence of African connections, on my mother's side, through old photographs, which have since disappeared, but were once seen in a family home in Falmouth, Jamaica. Next came confirmation in a baptismal register, which will be shown, revealing more than the usual amount of information. Finally, came Ancestry DNA evidence which I was hoping for, which confirmed my connections – latest percentages (a 5th update in 2022) were 2% from Nigeria; on previous updates it had been 1% Togo/Benin and 1% Nigeria, suggesting origins in western Nigeria, so perhaps in time the gap will be narrowed with a bit more certainty as to a possible tribe. My connection is 6 generations back, where my female enslaved ancestor, a creole Jamaican, was found in the parish Hanover.
Many of the usual sources were consulted in order to establish my family history, but will share a couple which fast track where I am going with this, without dwelling on my immediate family history.
A valuable resource, if you are fortunate, is to have a family bible with lots of family history; this one is of my grandparents, recording their dates of birth in 1886, and marriage in 1908.
The two-page Bible spread has details of grandparents 7 children, who they married, and their 15 grandchildren (including myself #12), plus 2 great grands, before the cessation of entries in 1961. These records were meticulously kept by my grandfather.
The sketch also by my grandfather, showing names (in the lower half) of his 7 siblings, and all the names shown in the bible, except one which I added, of his children and grandchildren but most importantly, the upper portion has some of the maternal branch of his ancestry. His grandfather, underlined in red, was John Thomas King Falconer. So, this scrap of paper, dating from 1952, 70 years ago, linked me, through my maternal grandfather, to his maternal grandfather.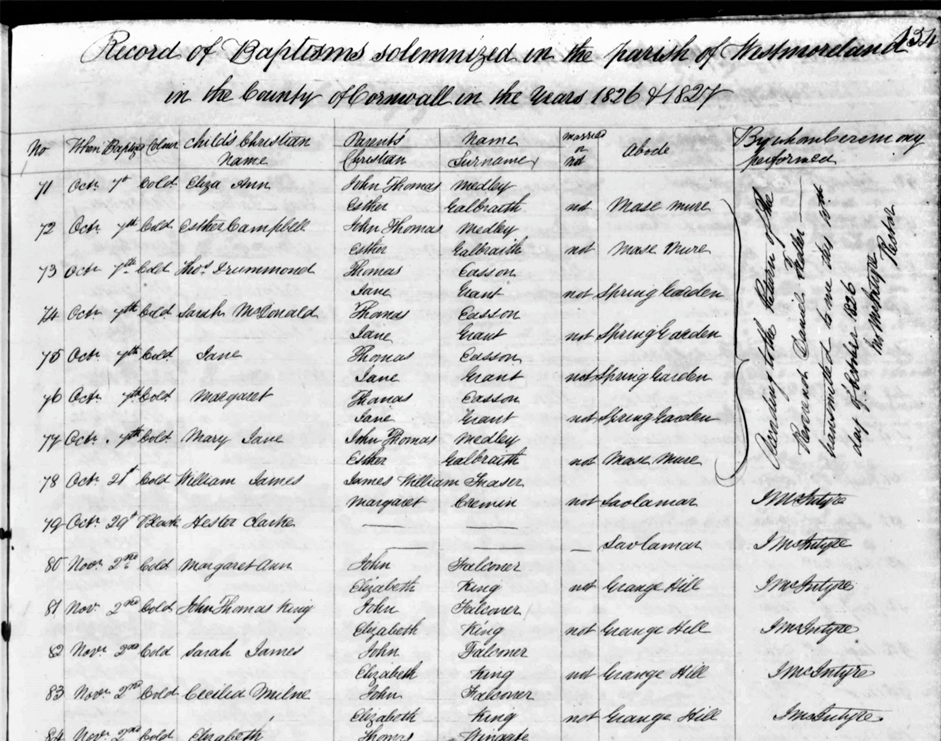 The baptism in 1826 of John Thomas King Falconer and some of his siblings, reveal his parents as John Falconer and Elizabeth King, unmarried and residing at Grange Hill in the parish of Westmoreland. They were described, in the language of the time, as "coloured", but could also be better defined as quadroons.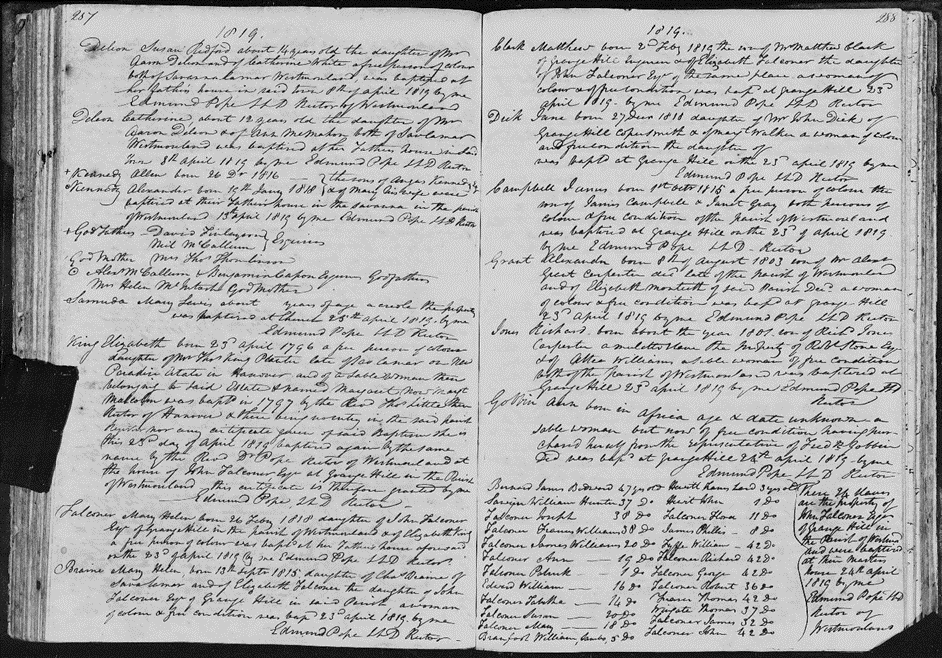 John Falconer was a white planter at Grange Hill, which meant that the mixed heritage was through Elizabeth King, and this double page spread revealed several baptisms in Grange Hill, connected to this family, as well as other people of colour. The most important for this narrative is the entry for the re-baptism of Elizabeth King in 1819 [by the black patch on the left]. These documents are from the FamilySearch website.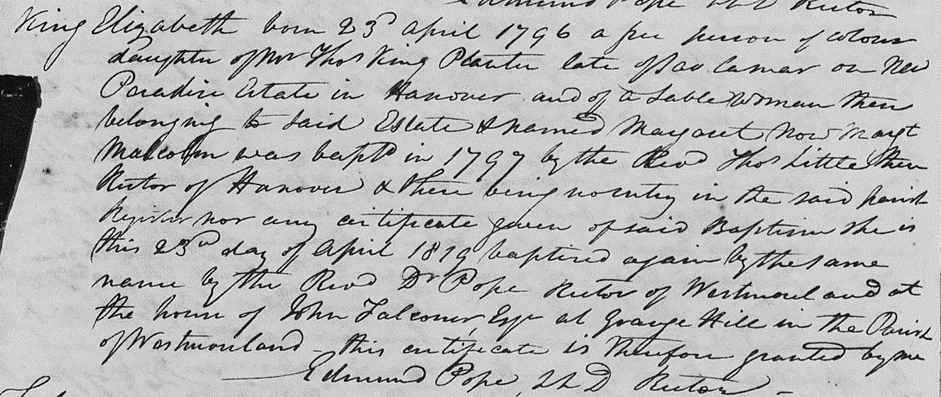 The information given here had a profound impact on me and I had to dissect every word in order to fully understand what was said in the statement. The name of the estate, which was clearly stated in connection with her parentage, was New Paradise. It was perhaps fortunate for me that the first baptism in 1797 went unrecorded as it provided an updated document by 1819, Elizabeth and her father Thomas King having moved over the border from Hanover, and just down the road, to Grange Hill in Westmoreland.
"King, Elizabeth born 23rd April 1796 a free person of colour, daughter of Mr. Thos. King, Planter late of Sav la Mar, on New Paradise Estate in Hanover and of a sable woman then belonging to said Estate and named Margaret, now Margt. Malcolm, was baptised in 1797 by the Revd. Thos. Little then Rector of Hanover & there being no entry in the said Parish Register nor any certificate given of said Baptism, she is this 23rd day of April 1819 [aged exactly 23 years] baptised again by the same name by the Revd. Dr. Pope Rector of Westmoreland at the home of John Falconer, Esq. at Grange Hill in the Parish of Westmoreland. This certificate is therefore granted by me, Edmund Pope LLD Rector."
Apart from the wealth of information given in the 2nd baptism of 1819, there are a few unanswered queries from the 1st baptism of 1797; such as where did this take place, presumably on the estate, and when did the child leave her mother for a different life with her father, as she had become a "free person of colour". Was she Manumitted by him to become free?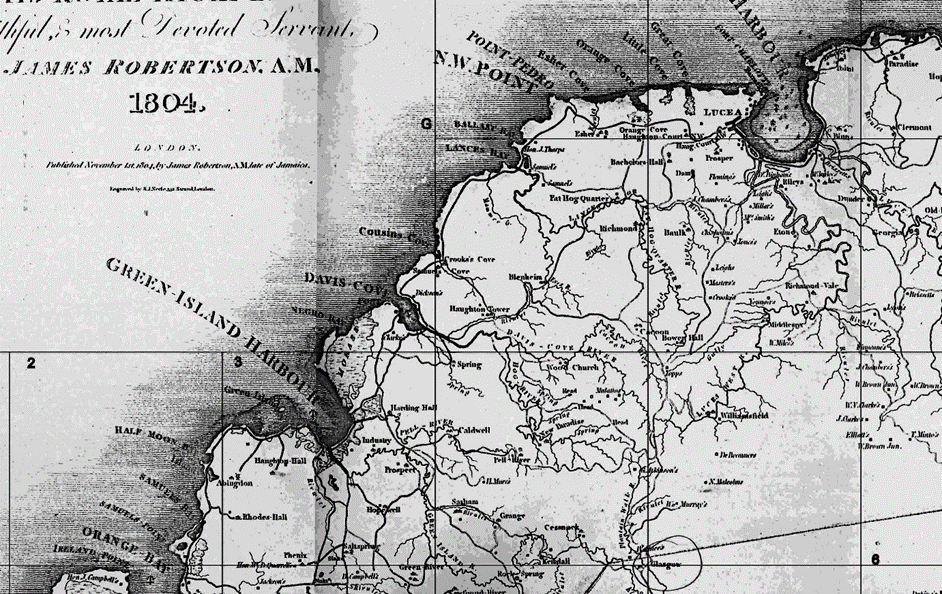 The enslaved woman Margaret Malcolm is located on New Paradise Estate, in the parish of Hanover, in the northwest corner of Jamaica, one of the primary parishes where sugar cane was grown. This map, by James Robertson from 1804, focuses on this area of interest.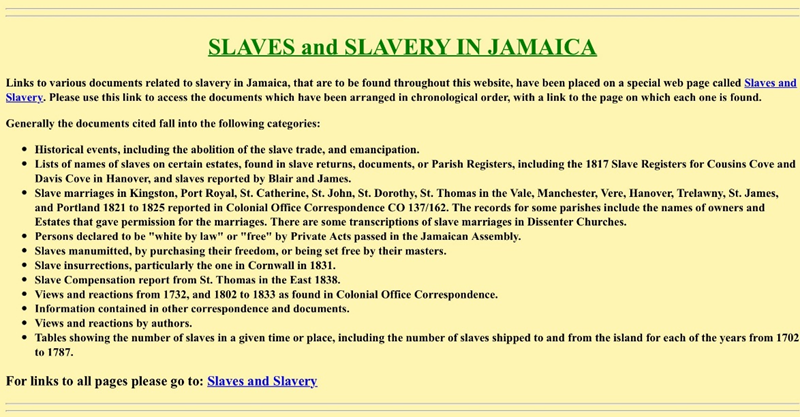 In order to find any enslaved person, anywhere, it is necessary to know the owner of the said enslaved person. Not all slaves belonged to estates, there were many who belonged to individuals who had a few people under their control, and most would be resident in the island, including free persons of colour, whether male or female.
The section of Slaves and Slavery on Jamaican Family Search website, has links to interesting sources, which helped to solve a problem not found elsewhere, there was no individual baptism of my Margaret Malcolm to be found in the Church of England Baptisms. However, she would have been part of the mass baptism of all her owners' properties in Hanover in 1816, as is illustrated in the next combined image.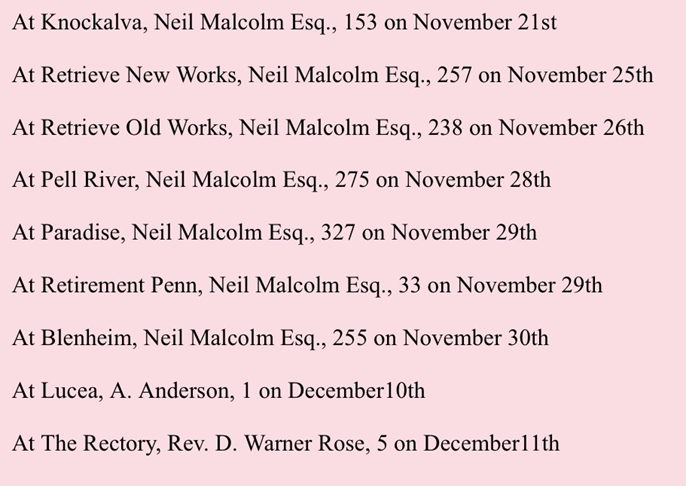 Hanover Slave Baptism Returns – 1816 Neill Malcolm Estates (incl. N.P.E.)
This list is one source used to find the owner of New Paradise Estate, Neill Malcolm, who was the absentee owner of seven sugar estates in Hanover. The source is Colonial Office Correspondence.
NOTE: There was a Slave baptismal register for 1817 to 1825, for the parish of Hanover; this document can be found at the end of the Hanover Parish Registers on FamilySearch. It contains also a few marriages and burials. Names have been indexed individually on FamilySearch. But not of help in my research.
___________________________________________________________________________________________________________________________________