Thank you to all those who attended our July meeting and a very warm welcome to the first time attendees.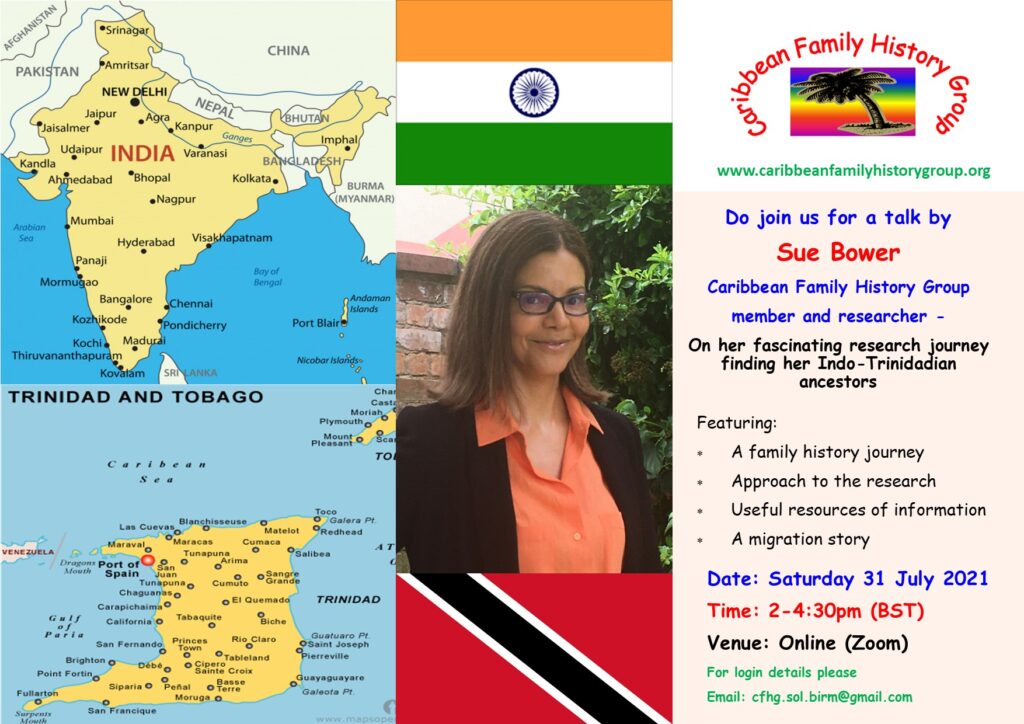 Dennis gave a short, interesting presentation on indentureship, followed by one of our members , Sue Bower who gave an informative and inspirational talk on her family history journey.
Sue's presentation discussed why she started her research, Indian Indentureship in Trinidad, her family migration story as well as her e book and family photos. Sue explained that the use of the Trinidad and Tobago Facebook group has been invaluable as well as the use of the Trinidad archives, from where she has obtained many records.
Sue then shared some of her e book which she recommended us all to do! She started this in Word and found it an ideal way to keep documents/photos/notes in one place and in order. You then have an easy document to share at any point and to add to and change. The e book prompted lots of discussion and excitement within the group and we all agreed it was an amazing piece of work and something we should all aspire to! Thank you , Sue for sharing your work with us.
Sue did mention she may consider talking to us about her St Vincent research! Watch this space for news!
Please note there is no meeting in August. Our next meeting date is Saturday 25th September 2021. Although we are not having an August meeting, we will still be here to answer your queries, just email. We hope our fellow researchers and members have an enjoyable summer and look forward to seeing you in September.
___________________________________________________________________________________________________________________________________________